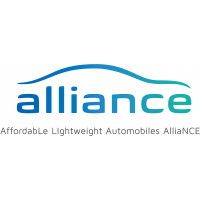 ALLIANCE project
Automotive lightweighting · Consortium
Europe · Spain | BASIC
ALLIANCE (Affordable Lightweight Automobiles Alliance) is a European collaborative project bringing together 6 OEMs (Daimler, Volkswagen, CRF- the Research Center of FCA, Volvo, Opel and Toyota), 4 suppliers (Thyssenkrupp, Novelis, Batz, Benteler) and 8 knowledge partners (Swerea, Inspire, Fraunhofer LBF, RWTH-IKA, KIT-IPEK, University of Florence, Bax & Company, Ricardo) under the common goal of reducing vehicle weight by developing new materials and manufacturing technologies, as well as optimising part design.
Research areas
Industrial manufacturing, Material and Transport Technologies
Materials Technology
Composite materials
Lightweight materials
Automotive engineering
and 1 more
Organization Website

Organization Type

Consortium

Founded

2016

Headquarters

Europe

Start collaborating Now!
The ALLIANCE partners are giving the opportunity to large and small companies, research centres, universities, and even individuals with innovative lightweighting technologies, to submit their ideas, co-develop them with the OEMs, suppliers, and knowledge partners of ALLIANCE, and shape the vehicles of tomorrow.

We are currently seeking best-in-class collaboration partners for the LIGHTWEIGHT Open Innovation Challenge listed below.

We do want to invite you to cooperate with us so please contact us through the available template and we will get in contact with you.

Please provide as much detailed non-confidential information as possible in order to facilitate the engagement process.
Contact Person